Fan Favorite: Paige Turner
by Catherine Fischberg, contributor
Showbiz Spitfire Paige Turner is the ultimate queen but also the reason I feel at home in New York City.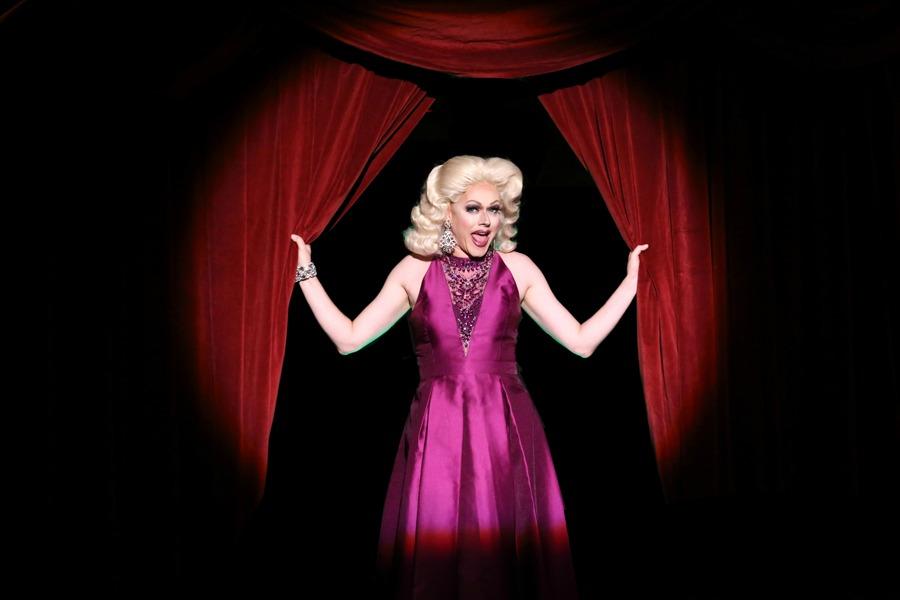 Moving to NYC is exciting but can be really overwhelming, especially if you don't know anyone. I had seen Paige a few times before I moved here, but that was it. I also didn't have friends, but that wasn't new for me. I've always been different and kind of on the outskirts, so being alone was familiar. However, I was craving friends and a sense of community. When I went to Slurp Sundays a few weeks into living here, I went alone. Paige remembered me from her cabarets at The Laurie Beecham Theatre and noticed I was there alone. After the show, she approached me and introduced me to one of her groups of regulars (or, as she calls them, her "irregulars"!). They were the most wonderful group of people and drag fans I could have ever hoped for.
Finding Community
I connected with them right away, and I had friends for the first time in my life. Over the years, Paige and her regulars evolved from my friends to my family, and I couldn't be happier. Once I felt comfortable with my friends and being out and about in the queer community, I was able to come out as a lesbian.
I was able to embrace who I am because I felt so accepted by the community already.
It also made it easier to come out of my shell, talk to new people, and make more friends. That was very difficult for me. Now I know that when I come to Paige's shows, I will always find someone I already know and love or make a new friend! Paige Turner's fans are so devoted to her but also the friendliest people I've ever met! She now hosts a monthly singles night at The Spot. It's helping even more people find friends and a sense of community.
Making It Snow
Paige is a very talented performer, and she is also wildly funny. She routinely does a drag potpourri at the end of her shows in which the audience picks songs for her to lip sync to, and it's amazing how many songs she knows. The audience rarely picks a song she doesn't know, but she still performs it hilariously and skillfully if they do. I especially love when she performs Let It Go from Frozen, and I have been requesting that from her for so many years that she and the regulars tease me for it every time. But she still performs it because she knows how happy it makes me. She even makes it snow in the bar by ripping up little bits of tissue or paper and throwing them into the audience! Sometimes Turkey Lurkey Time is included in the mix, and that brings everyone together in a major way. Paige's long-time fans know the choreography and perform it in their seats while Paige does it on stage, and it's magical to see the entire bar dancing!
Giving Love
Paige Turner is so full of love and care. She knows the names of all her regulars and makes everyone feel welcome at her shows. Paige knows what songs and artists her fans like and makes sure to include those in her shows to make everyone feel special and loved. She always makes time for all her fans. If I miss more than a few of Paige's shows in a row, she routinely reaches out to check on me and see if I'm OK, which amazes me, especially from someone as booked and busy as she is.
I feel so at home at Paige's shows. If you go to one of her shows alone and want some company, find me! I'm the one sitting right in the front row with a giant smile on my face!
Catch Paige all summer in Provincetown with her newest cabaret, Drag Me To The 80s, or back at Musical Mondays and Bingo Tuesdays at The Spot in Hell's Kitchen when she returns in the fall!